Available for short and long-term car hire in Dandenong, we are the most affordable way to rent a car in your local suburb.
12 Lonsdale Street. Dandenong VIC, 3175
Phone: 
03 9791 4666
Email:
dandenong@rentabomb.com.au
Opening Hours:
Monday – Friday: 9:00am – 5:00pm
Saturday: 9:00am – 1:00pm
Sunday: Closed
Public holidays: Enquire in-store
Rent a Bomb dandenong –
Reviewed by
41 Clients
Rated: 3.8 / 5
The Very Best Cheap Car Rental in Dandenong
Whether you need a vehicle for business or pleasure, we offer the best cheap car rental in Dandenong. With an extensive range of vehicles available, Rent A Bomb ensures you travel in comfort with our wide selection of new and used car rentals in Dandenong.
Since 1979, Rent A Bomb has been providing reliable and affordable car hire options to residents and visitors of the beautiful Dandenong region. Home to the lusciously green Dandenong Ranges, an ever-popular getaway from the hustle and bustle of city life, Rent A Bomb can tailor a car to suit your needs.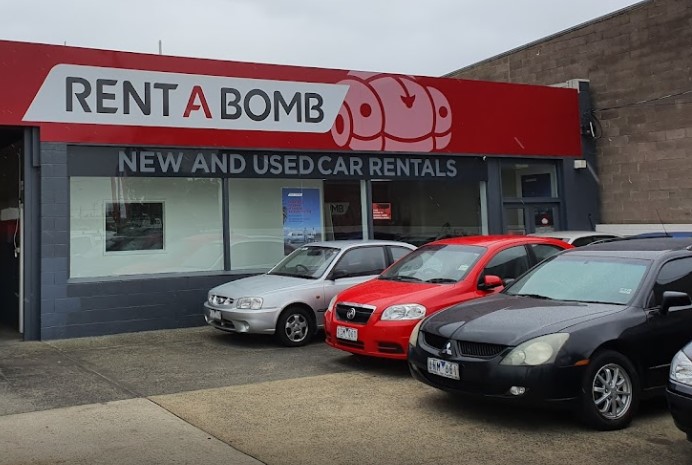 Low-cost commercial ute hire to cheap van rentals
We don't just hire cars. We also provide affordable ute hire and van rental in Dandenong and surrounding areas.  With premium, commercial, and budget options to choose from, you can visit the region in ultimate comfort, with total freedom. With Rent A Bomb, getting from point A to point B has never been easier or cheaper.
Not too sure about directions or the fastest way to get around? With their wealth of local area knowledge, simply ask our friendly team members for assistance. Not forgetting we also offer GPS units for rent!
Short-term and long-term, local or long-distance – travel as far as you need in our range of cars, vans and utes!
Whether you need to rent a cheaper vehicle for only one or two days, or need a car rental for a month or more, Rent A Bomb is able to deliver. Our rental days are based on a 24-hour period, beginning at the time you pick up your car, and ending when you return it to the branch. You decide how long you need the car for, and we'll match you to the right vehicle.
We also differentiate between cars, vans and utes for driving around the city, and vehicles suited for travelling anywhere in Victoria, with our Metro cars only permitted to an area of use 55-kilometres in radius, measured from the CBD. If you plan to take in some of the National Parks that surround Melbourne, or if your business trip requires you to visit a few locations throughout Victoria, ask about an Out of Metro hire car, which will not only be newer than our Metro cars, but also allow you to travel anywhere in the State. All without ruining your budget.
Rent A Bomb has locations everywhere – you've probably driven past a number of our vehicles before! For your convenience, you can find our car rental services outside of Dandenong, in locations like:
And even more locations!
Rent cars from the best car hire service in Dandenong
Whatever your plans are in Dandenong, choose Rent A Bomb's trusted car hire services. To get started, request a fast quote online or contact us on 03 9791 4666 or 1300 CAR HIRE (227 447)! No matter what your requirements are, we guarantee that the friendly staff at Rent A Bomb will find you a cheaper vehicle that will fulfil your every requirement.