For cheap long term and short term car hire in Cairns, choose Rent A Bomb. We have the best range of quality vehicles at budget prices, conveniently located near Cairns Airport.
144 Sheridan Street. Cairns QLD, 4870
Phone: 07 4031 4477
Email: cairns@rentabomb.com.au
Opening Hours:
Monday – Friday: 9:00am – 5:00pm
Saturday: 9:00am – 1:00pm
Sunday: Closed
Public holidays: Enquire in-store

View Larger Map
Convenient and Cheap Car Rental near Cairns Airport
With so many budget car rentals around, it can be hard to determine which one offers the most reliable services. But if you're looking for the best in the business for cheap car rental in Cairns, there is only one choice – and that's Rent A Bomb. For affordable and reliable car rental that's close to Cairns airport, we are the leaders for affordable quality vehicles.
Whether you're visiting Cairns for a day, week, month or even if you live here, you'll need an efficient means to get around – which means public transport is out of the question. Rent A Bomb is the leading provider of fantastic new and used, short term and long term, car rentals all across Cairns. Rent A Bomb has second-hand car rentals, new car hire and more.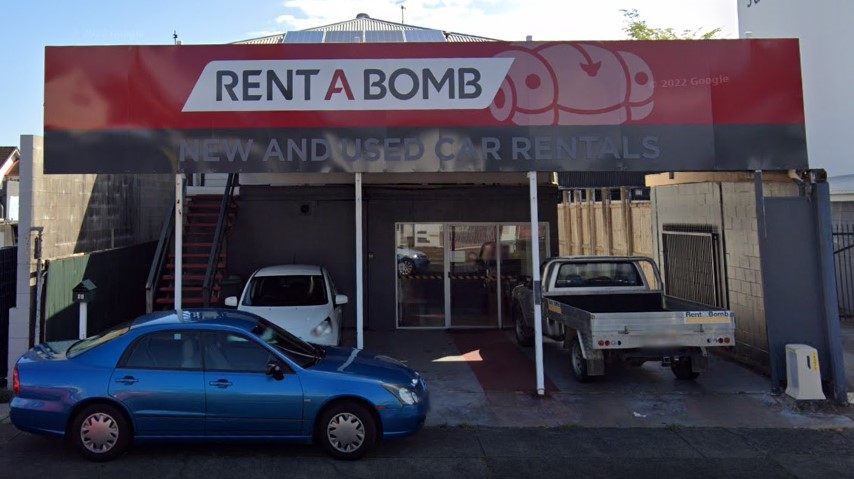 Trust Our Affordable Van Rentals and Ute Hire in Cairns
We have a fantastic range of van rentals and ute hire in Cairns including both new and used vehicles. Click the links below to view the cars, vans and utes we currently have an offer.
What's most important is that we have the best customer service assistants available, who are always committed to creating the ideal option for you the guarantees the cheapest price, with the greatest amount of value.
Contact us today by calling 07 4031 4477 or 1300 227 447 and we will assist however we can!
Since 1979, our professional and dedicated team has strived to provide our valued customers with a fantastic and cheap car rental service. Sure to impress, enjoy a hassle-free holiday without hurting your back pocket, when you choose our budget-friendly services. Rest assured that you're getting only the best when you choose Rent A Bomb.
To further facilitate your stay, our staff will provide friendly and accurate travel tips for you with their comprehensive local knowledge of the northern Queensland area. If you would like to explore yourself, we also have various models within our range that have GPS capabilities, leaving the countless awaiting discoveries of the greater Cairns region completely at your fingertips. For some, this may sound daunting, especially if you're a tourist, because you are in a vehicle foreign to you. Never fear – all of our vehicles undertake frequent maintenance and servicing to give you the peace of mind that only comes with professional reliability. Should any issue ever arise for whatever reason, we also provide 24-hour roadside assistance, just to aid with that last piece of concern in your mind. We have you covered.
Speak with Leading Car, Van or Ute Hire Services in Cairns and Beyond
With convenient locations Australia-wide, our car rental service is also available near Brisbane Airport and Gold Coast Airport. In the Melbourne area? We have a variety of locations available, including:
Choose the best experience available to you and rent top quality cars at the cheapest prices in Cairns today. If you are a business looking to hire from our range of high-quality commercial vehicles, including a range of trucks, vans and utes, our specialists offer a free consultation to better understand your needs for the vehicle, and recommend the perfect solution for your needs. It's all part of our commitment to delivering you the best services possible.
For more information on Rent A Bomb's Cairns car hire service, request a quote online or contact us on 07 4031 4477 or 1300 227 447 now! We're sure to find you a vehicle that fully matches your requirements and make your time in Cairns one to remember forever.