Our range of vehicles are cheaper and more reliable than the competition, making us the ideal choice for car hire in Preston.
246 High Street. Preston VIC, 3072
Phone:
03 9480 3388
Email:
preston@rentabomb.com.au
Opening Hours:
Monday – Friday: 9:00am – 5:00pm
Saturday: 9:00am – 1:00pm
Sunday: Closed
Public holidays: Enquire in-store
Rent a Bomb Preston –
Reviewed by
42 Clients
Rated: 3.2 / 5
We Provide Cheap and Convenient Car Rental in Preston
Just north of the Melbourne CBD, our Rent A Bomb location is conveniently located for car rental in Preston. While the local area has many public transport options that assist residents in moving about, sometimes you need a bit more freedom than what public transport offers. Which is why Rent A Bomb is the perfect choice when you're looking for a budget car rental. Maybe you're in Melbourne for a short stay, or maybe you just want to get away for the weekend.
With great prices all around, you'll be able to find a new or budget solution to meet your travel requirements, without emptying your wallet. Get around for less, when you choose Rent A Bomb's cheap car hire options, with no compromise on quality. There's no need to deal with busy, packed public transport when you've got plenty of car hire choices!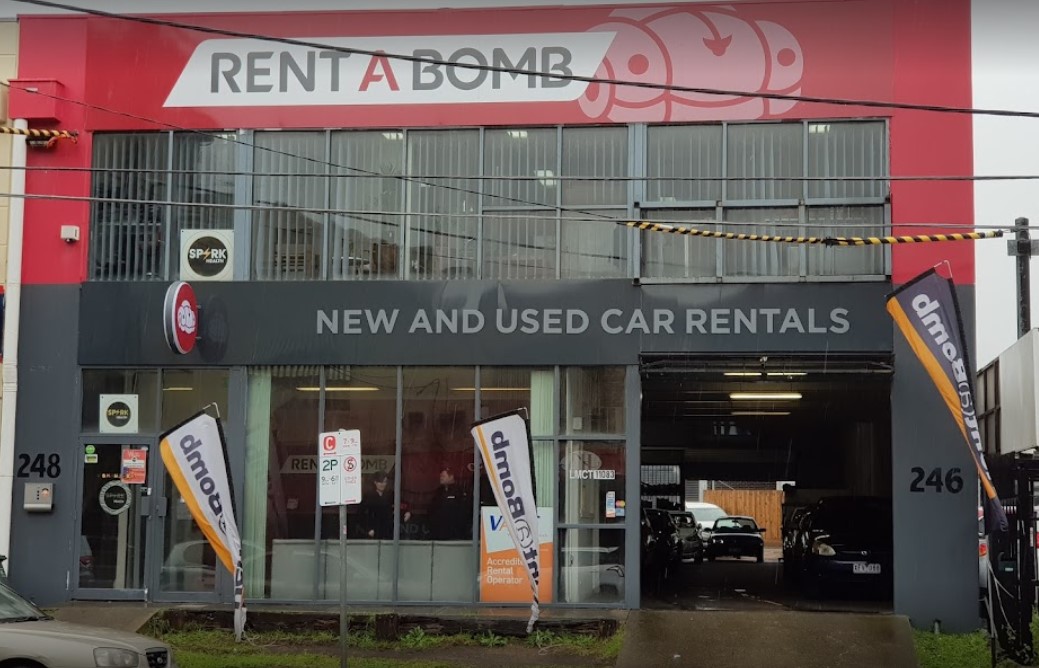 Cheap Van Hire & Ute Rental Services
Our range of new, second hand, and commercial vehicles for hire are cheaper, more reliable and high-quality, and this is what has kept us at the top of the car hire industry since 1979. Whether you're after ute hire or van rental in Preston, we've got you covered.
Our most affordable cars for hire come from our Metro range: used cars, vans and ute that are by no means unreliable. They're your best option for travelling from one side of Melbourne to the other, within a 55-kilometre radius of the city centre.
Need to travel further, or looking for something a little newer? Ask about our Out of Metro vehicles which include all the modern conveniences we've become accustomed to, such as power steering, central locking, and air-conditioning. But those mod-cons don't come at a premium price at Rent A Bomb. Our Out of Metro vehicles do cost a bit more than our Metro cars, but they're still very affordable. And you're also free to travel as far as you want in Victoria with a car, van or ute rental from our Out of Metro Traveller range.
Other convenient locations throughout Melbourne
Whether you are a resident of Melbourne, or just visiting, you'll be glad to know that Rent A Bomb has other locations around Victoria, so you aren't limited to Preston. These include:
And more! We even have branches in New South Wales and Queensland, so you can still make use of Rent A Bomb when your travels take you further up the eastern coastline of Australia.
Contact us to make a booking
If you are interested in making a booking on a a car, van or ute from our extensive fleet, or have any further enquiries regarding our cheaper options, pick up and drop off destinations, or cost enquiries, feel free to get in touch with the friendly and knowledgeable team of staff at Rent A Bomb. We're open seven days a week, and are always ready to offer car rental advice to help you find the perfect vehicle for your needs.
Complement your business trip or holiday plans with Rent A Bomb's exceptional car hire solutions. Get a quick, easy quote online or contact us on 03 9480 3388 or 1300 CAR HIRE (227 447) now!